Hello everyone. I'm "Vietnamese teacher", today I am going experience a day in Hanoi with an American international student, who has just come to Vietnam. Let's follow our footsteps.
Tracy had just arrived in Hanoi, so I was going to ride a motorbike to pick Tracy up because she didn't know any the street, how to get a bus and how to order a taxi or a "motorbike taxi" through an app in Vietnam. Don't forget to wear a helmet when riding a motorbike if you don't want to be "questioned" by the traffic police.
This morning we had a Vietnamese breakfast, not a hamburger, not a western sandwich but a "Vietnamese hamburger" called "banh mi". In the morning, Vietnamese people usually eat banh mi, sticky rice, vermicelli, pho…. Tracy loves banh mi, and in Vietnam there are countless different types of "banh mi".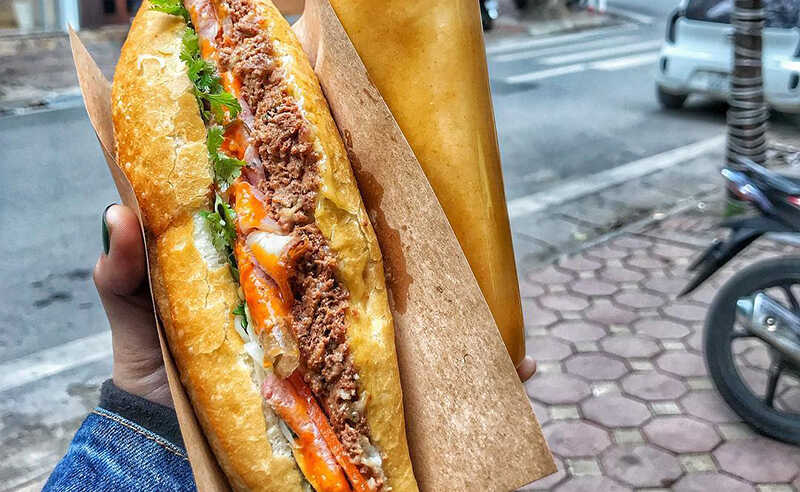 Right now, we were at Hoan Kiem Lake, which is considered the heart of Hanoi capital, we would try to eat a special dish, not vermicelli soup or pho, but "Vermicelli With Fried Tofu & Shrimp Paste". Vietnamese people love some sauces from some kind of fishes, famous for its fish sauce.
But shrimp paste has a very different taste, it is made from fermented shrimp and not all foreigners like it. On the dish has tofu, boiled pork, meat ball with young rice, vermicelli, herbs and indispensable shrimp paste.
Tracy was very interested, although she was not used to this taste very much. But trust me, Tracy would also eat this dish many times like many other Westerners in Hanoi.
In the evening, we went to West Lake, which is the largest lake in Hanoi and surrounded by many European and Asian restaurants. But I would take Tracy to eat a rustic dish of Hanoi's young people, which was snails.
In the West, people rarely eat small snails, but when seeing the shop owner stir-fry snails with tamarind, coconut milk, and process them into very fragrant and attractive dishes, Tracy tried it and just knew " wow" because it was so delicious.
At the end of the day, we had come back home, passed through Trang Tien street and still did not forget to stop by to eat Trang Tien ice cream – an historial ice cream brand in more than 60 years in Hanoi.
"Hanoi tour" with Tracy in one day ended. If you love Vietnam and want to explore more, see you someday in Hanoi.