Ha Long Bay is recognized by UNESCO as a world natural heritage, so this place is one of the most popular tourist destinations in the North of Vietnam.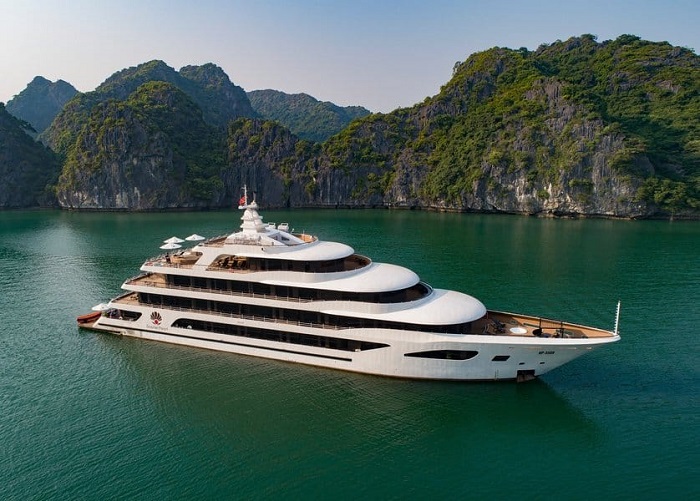 In recent years, Ha Long Bay has appeared a new form of tourism, that is sightseeing and staying on a yacht instead of a hotel.
To book a Halong cruise, you can book it yourself through a booking app on your phone or book a room with a travel agency.
The price for a night is about 2,000,000 to 5,000,000 a room for 2 people, depending on the quality of the yacht.
There are two ways to move from Hanoi to Ha Long: shared car and private car
The shared car only picks up passengers in the Old Quarter at about 7.30 – 8.30 am. If you are outside this area, you should take a taxi to Hanoi Opera House and wait for the car to pick you up there. The price per person is about 150,000 to 250,000 VND.
Although a private car costs 2-3 times more expensive, but a private car is more convenient because the driver will pick you up anywhere in Hanoi around 8 am and then move directly to Ha Long Bay. If you go with a group or family, you should choose to rent a private car.
It will take you about 4 hours to reach the harbor in Ha Long Bay. The cruise will start picking up passengers at 12 noon.
The most anticipated activity is kayaking. The tour guide will teach you how to kayak and then you are free to explore the nearby place and view over Ha Long Bay.
Then, you move to Ti Top Island where you can hike up the mountains to see panoramic views of the bay or swim and volleyball on the beach.
You will have a dinner on the yacht at sunset with delicacies of Ha Long, enjoy the romantic atmosphere at night on the sea.
And if possible, wake up a little early to experience the sunrise on the Bay!
In addition, there are many other interesting activities you can participate in completely free of charge on the yacht.
Points to note to have a more perfect trip:
+ Should go in summer: because in winter, the sea breeze is very cold at night, so it will make you easy to get sick. If you go in the summer, the night air is quite cool.
+ Bring sunscreen: Because the surrounding is the sea, the sun on the ship is very harsh, please take care of your skin carefully!
+ Bring shampoo and shower gel if necessary: My personal opinion is that products on the yatch is not very good. I am a picky person, so if I go next time, I will bring my own shampoo and shower gel.
+ Do not bring plastic water bottles on board: Ha Long has an environmental protection policy – banning plastic water bottles. The cruises often prepare water in glass bottles so you can buy it on board.
+ Do not bring food on board: If you bring food on board, you will be charged very expensively. Meanwhile, the meals on board are served very fully and varied so you don't worry about going hungry.
+ Finally, take lots of photos to capture memorable moments and beautiful scenery of Ha Long Bay.

Hope that you will soon have a Ha Long tour trip! Let's go and feel the beauty of this place!